"And when Jesus had cried out again in a loud voice, he gave up his spirit. At that moment the curtain of the temple was torn in two from top to bottom. The earth shook and the rocks split.
Matthew 27:50-51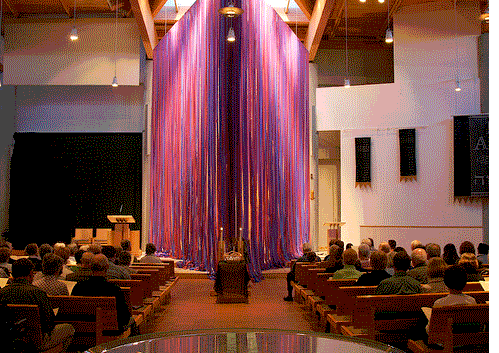 This photo composite animation of the veil being rent during the Good Friday service reminds us of what Jesus did for us on the cross.
In talking with Boo this past Sunday she mentioned that unless folks attended the funeral service on Good Friday the Easter season of celebration doesn't really mean as much. Seeing the veil being torn and fall as it did was such a moving and beautiful sight - such a powerful image that makes Easter Sunday and the Easter season a real reason to celebrate. Without Jesus being torn and dying there would be no resurrection.
"Therefore, brothers, since we have confidence to enter the Most Holy Place by the blood of Jesus, by a new and living way opened for us through the curtain, that is, his body, and since we have a great priest over the house of God, let us draw near to God with a sincere heart in full assurance of faith, having our hearts sprinkled to cleanse us from a guilty conscience and having our bodies washed with pure water.
Hebrews 10:19-22